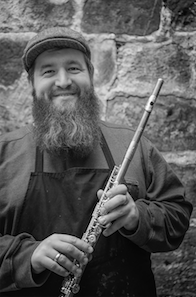 Born in 1988, Christoph Kramer started his apprenticeship as a craftsman for woodwind
instruments at Musik Fisera in Nuremberg in 2004. There he passed his journeyman's test head of
his professional association and the federal state of Bavaria. Following that, he passed the master
class at the college of western Saxony in Zwickau in 2010. Built in that year, his masterpiece, too,
was a wooden flute made from service tree wood. Since 2011, he manages his own business in
Forchheim, where he specialized himself in repairing and restoring any kind of woodwind
instrument, but above all regarding flutes.
Christoph Kramer doesn't only repair instruments, he also mastered them. This allows him to play
and precisely examine all instruments given into his care. He is musically active in multiple
ensembles.
The shop is fully equipped with a workshop, a room devoted to instrument testing purposes and an
exhibition. Especially the broad selection of flutes from different brands and headjoints for flutes
from his own manufacture offers every flutist a broad range of high-quality instruments, which
allows the customer to assemble a flute fit for him or her. Here, an extensive and individual
consultation is natural and indispensable. The headjoints' commercial production started in 2019
and was already acknowledged in a testing report published in the trade journal "Sonic" in early
2020.
Christoph Kramer is also involved in the organization of the instrument craftsman's trade. Since
2014, he is deputy head of the instrument craftsmen guild of Northern Bavaria and since 2016 he is
a board member of the federal instrument craftsmen guild.